The "Solar" industry has grown so much that people who like to live portable lifestyles can manage their energy needs on the go! Surprised? Yes, it's possible with "Portable Solar Panels".
So if you're one of the RV or Van or motor home dwellers, then it's never been so easy to generate off-grid electricity thanks to portable solar power systems. Therefore portable solar energy systems are the best affordable solutions for the majority of people who are looking for energy solutions other than the roof-mounted solar system.
Are portable solar panel systems worth it?
Portable solar energy systems are a good choice for everyone who is planning to go solar but without a rooftop solar system!
Thus solar power isn't limited to residential and commercial solar installations – but using portable PV panels you can utilize the power of the sun on the way. Today there're a number of portable solar products available in the market such as solar generators for RV trips, solar phone chargers, etc.
Important key points about portable solar panels:
These solar energy panels are the best for camping and RV trips when you're traveling but don't wish to use a generator.
As mentioned earlier, there are various types of portable PV panels like – foldable setups, phone chargers, and many more.
Portable solar panel overview:
A solar panel is considered – portable- when it can be moved/taken around at the same time used for energy generation from your prime home. These types of solar PV systems are mostly used for backup power generation when you're on camping or RV trips. Portable solar panels are normally smaller in size than the standard residential photovoltaic panels or typical rooftop solar panels or ground-mounted solar energy panels, which are capable of producing energy between 250 and 365 watts per panel whereas portable solar panels can produce energy nearer to 100watts.
Another type of portable solar is – solar chargers, they're smaller, easily transferable solar products that are used for charging phones and other types of small electronics. The majority of solar chargers can generate power between 5 to 20 watts.
Although portable solar PV systems can never surpass standard residential or commercial solar one-on-one, still they provide a few benefits in a few specific situations when compared to standard solar options. Besides being highly portable as well as being able to be transported wherever you might need electricity at that time, these types of solar energy panels are a low-cost solution to take advantage of solar energy when you're off the path. These PV panels won't generate ample energy to power not much than other smaller appliances, but, it's a great option to use the sun's energy while on the go for camping or hiking or on RV drives.
These solar panels are smaller in size, also they offer unique features like foldable design or kickstand to make them easier to use while on the road.
The best ways to use portable solar panels:
These types of solar energy panels are useful for small-sized solar projects but will not be able to provide ample energy for your entire home. But if you're looking for options to maximize your energy savings with a residential solar system or ground-mounted solar system, Vista Electrical Controls is the best place to get the best solar quotes and reviews for comparing all your options.
This being said, if your requirement is for a small amount of transportable solar energy, then portable solar panels are the best option to go for.
Let's look at some of the situations where portable solar panels could be the best choice for you:
For camping and RV trips:
The portable solar systems are best for RV owners who pass a lot of time dry camping or off-grid. Using few portable solar panels you can charge up your solar generator each time the sun shines and thus you can use that energy when you're traveling. It also enables you to keep your noisy generator back home and enjoy your trip.
These PV panels need various types of equipment to generate and store electricity similar to the residential solar system. They require a battery or solar generator, cables, solar inverter, and devices to keep those panels mounted and secure them when they're in use. These panels are useful in many cases, therefore it's also important to set them up properly to earn their benefits.
Overview of solar generators:
As mentioned earlier, RV owners and campers can earn most of the benefits of the portable solar system if they're paired properly with the solar generator. A solar generator is a battery fitted to couple with solar energy panels. Using a solar generator, it's possible to use your portable solar panels to generate an ample amount of energy whenever the sun is bright, and also you can store that energy for later use.
Charging your phone on the way:
It's not that you can use portable solar panels only for adventures, but you can fit them in your backpack or your pocket and use them for energy production. You can use them for phone or laptop recharging.
Solar phone chargers are all in one device i.e. they don't require any extra setup for using solar energy. You just need to place the charger in the sun to collect energy and attach your phone or any other device to the charger whenever you need to charge it up.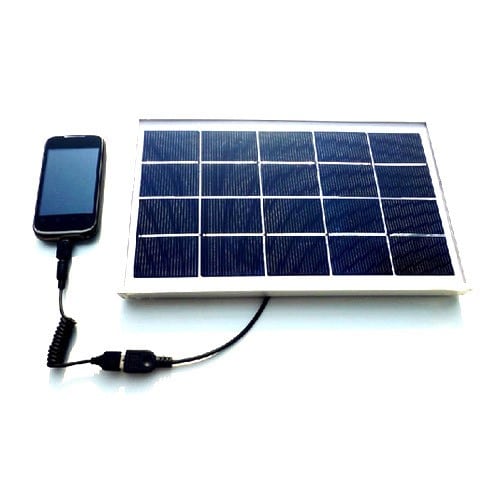 Conclusion:
The key takeaway after this discussion is to set your home up with solar today! And reap the benefits of solar energy on the go to keep your appliances and small electronic devices up and running but when you install residential solar panels or ground-mounted solar panels, you can save the most money and also get to use ample energy. If you figure out the benefits of solar panel installation and also wish to compare different options for a solar system installed on your property then contact Vista EC today! You'll get the best solar quotes or you can call us on 1300 181 116