Going solar is a huge step. You've made a leap, and there's a little nervousness on your mind. You wish that this initiative should prove to be beneficial. No one wants a poorly built and set up solar panels that demand too much of your attention moreover when the investment vs profit ratio is not very impressive.
To avoid putting yourself in such a tragic situation, we have come up with a set of questions you should ask before your solar panel installation begins. It's a little homework for you, which will surely help you have a hassle-free, environment-friendly and advantageous energy transition.

The decision-maker questionnaire:
In this section, let's have an in-depth understanding of the importance of these solar energy questions and how it directly influences your decision.
1) Can I see the work portfolio for the projects you have completed?
It's a good practice to make necessary confirmations and checks before handing out the contract. Ask your solar provider about the solar systems they have installed. It will give you a fair idea of how they proceed further to deliver results.
At Vista, we recommend our clients to physically go and visit the sights to understand the quality of work and gather information, learn about experiences from our existing clients.
2) How can you prove your commitment to quality?
Many solar providers will claim that they provide quality service. However, you should look for licenses and registration of the company before deciding anything. Try and collect all vital data. You should make all the background checks before heading further.
We are WA Licensed Electrical Contractor EC13384. We have our very own in-house teams of Clean Energy Council Accredited Designers and Installers.
3) Can you suggest other ways to save power in my home?
Going solar unquestionably brings two profits at home. It saves power bills and reduces your carbon footprint. So when solar panel installation team visits your house for quotation, do not forget to ask them about additional ways to save power.
See whether they can:
Check your home lighting system
Check your future energy needs and suggest you a better solar system
Check how heat efficient your house is
At Vista, we strive to provide genuine and accurate information and fair quote so that you won't hesitate to choose us as your solar providers. We allow our prospects to decide wisely, rather than running into pressurizing marketing.
4) Is there any hidden costing?
More often than not, many companies do not mention the costs that they charge you out of quotation. E.g. Meter box upgrades, raked ceilings, and so on. To avoid this, when you receive the quote, make sure you clarify with them about any sort of surprise bills.
Vista Electrical Controls has fully comprehensive, and straight forward quoting system, that does not house any kind of hidden costs so, you already know that the quoted price is the final price.
5) What are the electrical codes in this area? Do you follow them and how?
This is variable. You can gain some knowledge beforehand and make sure the installer has a full understanding of the electrical codes and how to adhere to them.
At Vista, the trained staff possesses all the required knowledge to provide you with a seamless solar experience. You would never have to worry about a thing when you decide to go solar with us.
6) Will maintenance be provided after the sale?
This is indeed a very important aspect of any business. Consult with your solar provider about the after-installation support. Ask about
Their warranty claim process.
How quickly they serve enquiries after installation is done.
Whether they have a dedicated service department
Rest assured when you opt for our solar services. If you should face any kind of difficulty post-installation, you can avail the assistance of our local personnel, who can solve your problems either on the phone or in person.
7) Do your existing and past customers have a say about you?
The answer to this question is the internet. You can find out the reviews from customers. You'll find discussions, opinions, communities and so on. This research will be helpful for you to learn about your selected service provider.
Vista has positive customer reviews. As we previously mentioned, you can go check the installation sights and talk with our clients. Word-of-mouth is powerful, and we know it would work best for us.
These are the solar energy questions you must ask before finalizing a solar service provider. This questionnaire will allow you to make an informed and wise decision.
Now, then let's learn about Vista Electrical Controls and why we are apt for your solar needs.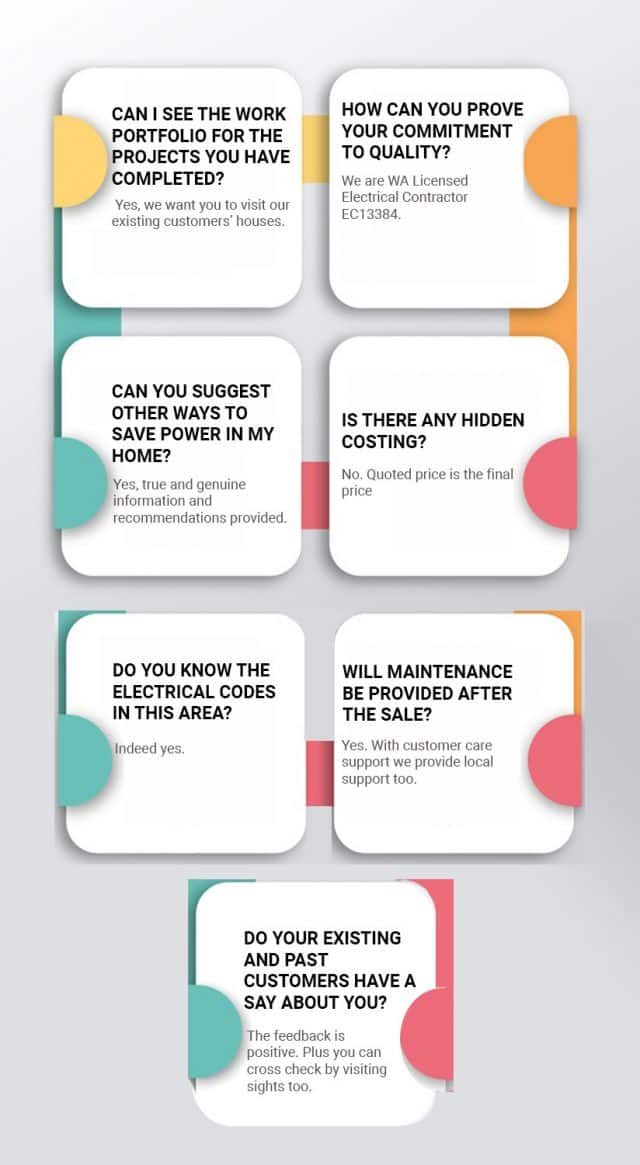 Why Vista Electrical Controls?
Because we value your money and the decision to go with us. It's a matter of trust that you put in us. Vista Electrical Controls is one of the best solar provider companies in Australia. Our team is a dynamic combination of skilled and professional workers who stand with you in every need and every query before and after the solar panel installation.
Through our experience, we have understood what it takes to produce quality solar systems and what exceptional customer service is all about.
We see to it that all the requirements are served accurately and the customer experiences something that money can't buy – peace of mind.
So make a smart decision that doesn't only save the planet but also money!
Without further ado, let's work together and empower your house with solar energy.