Solar is on your mind for quite a while, isn't it?
Why not?
It's trending technology and the most guaranteed way to produce and use clean energy.
When the thought hit the brain, you get skeptical and don't understand where to start.
All your confusion will vanish if you go through the best solar company in Perth – Vista Electrical Controls' previous blog post that guides you through all these speculations.
Today, we are going to tell you why you should go ahead and welcome the solar system in your house.
Let's see the 'irresistible whys'
9 reasons to go solar in 2019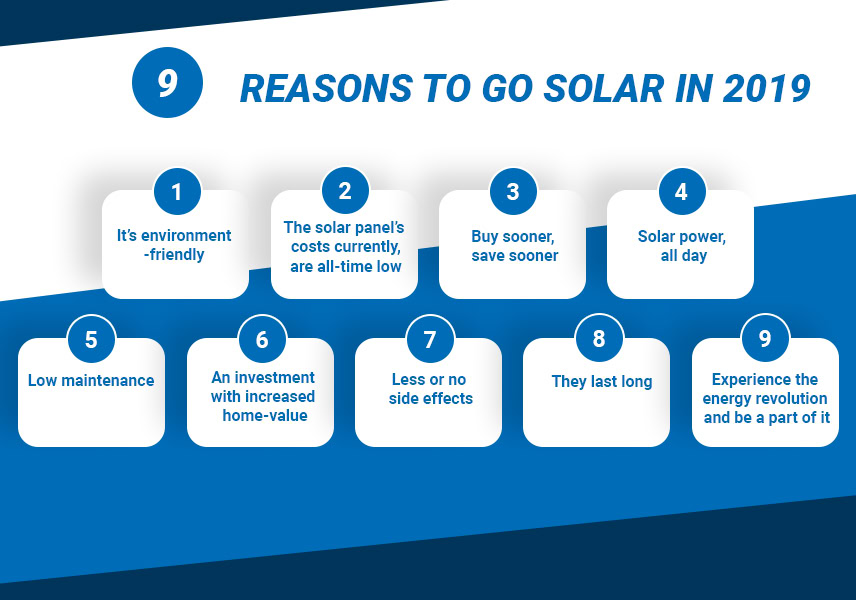 1) It's environment-friendly: No harmful emissions are released into the atmosphere using solar power, unlike non-renewable resources, which result in air-pollution after combustion. Solar energy is clean, available in abundance and free to use. It makes use of the renewable energy resource – the Sun.
2) The solar panel's costs currently, are all-time low: The average Australian household grabs immense solar energy benefits, especially when we talk about saving money on energy bills. Today a common residential solar system is quite cheaper. The technological strides, among other few reasons, have caused a massive drop in the prices of solar modules in the past five years.The exciting price drop also shows that the average size of the solar module for a home is also increasing, e.g. from 1 or 2 kilowatts to 4 5 kilowatts KW. This could bring in the bigger impact on your utility bills. It will allow you to save more and plan budgets effectively.
3) Buy sooner, save sooner: Solar panel systems are priced low right now. Why not grab the opportunity? Waiting for further reduction in the prices and putting your purchase plan on hold might not prove to be beneficial.
Energy prices are high and are expected to grow even more. Keeping your solar plans aside is buying retail grid power at high rates. Instead, you can go green and be a proud solar-powered homeowner.
4) Solar power, all day: Here's a myth buster. Solar panels generate electricity even on cloudy days. What you must note is, the amount of power generated on a cloudy day or while raining, is less. However, it still produces a good amount of electricity. A sunny day gives energy more than enough for your daily operations. So on a cloudy day, panels work to accumulate energy in the morning and afternoon hours, during the daylight, meaning, substantially solar panels work well.
If you are a WA resident and need further assistance and queries, call us at 1300 181 116 or write to us at info@vistaelectricalcontrols.com.au
5) Low maintenance: They require little or no maintenance. Not very long ago, the customers were advised to wipe the panels clean after some years (or months) to make sure they produce energy effectively without interruption. However, today the efficiency of the panels is high enough, that even you don't clean them; they do produce a good deal of energy.
'Solar panels for your home' is a win-win situation. The installation charges are not very expensive, and there's low maintenance (very less or no) cost.
6) An investment with increased home-value: There are many things that we keep doing in/for our house, which fails to guarantee any impressive resale value. However, this isn't the case with solar system installation. It will make sure that you save on energy bills each month, which turn into a large amount annually.
On the other hand, if you should sell your house, it's going to be one of the favorite properties as it's a solar home. It will not only be in the favorites but also allow you a hiked resale price.
7) Less or no side effects: Generators usually stain walls due to fumes or they may create a noisy environment after long usage, but solar does not produce such disturbances or any kind of difficulty.
8) They last long: The efficiency of solar panels is as such that they work fine for a long duration. The PV systems require less maintenance. With little attention, they work smoothly for years.
To support this inbuilt amazing feature of solar panels, the service providers like Vista Electrical Controls render warranty on panels.
9) Experience the energy revolution and be a part of it: By going solar, you become one of the many Australian homes that embraced solar power. It's an energy revolution to benefit the environment and yourself as well.
Take away
The time is right for you to go solar now. With the outstanding line up of benefits and monetary gains, the deal is all profitable.
Vista Electrical Controls is an ace solar system provider in WA, Australia. We have the experience, expertise, skilled team with us to make the solar shift as easy as it can be.
Vista Electrical Controls, always gets the best solar panels Australia reviews, will take care of all your solar needs.