Pretty much is being talked, implemented and written about solar energy. It's the best alternative to combat global warming. However, what's the future of solar power?
Particularly, in Australia, what's the scenario?
The amount of energy Earth receives from the sun is unimaginable! The figures are mesmerizing. It is way more than the whole planet can use!
Solar panel installation in Australia and around the world should move forward in full swing, as we are not running out of this abundant source of renewable energy.
The solar future is as bright as the Sun! Let's understand the factors contributing to it!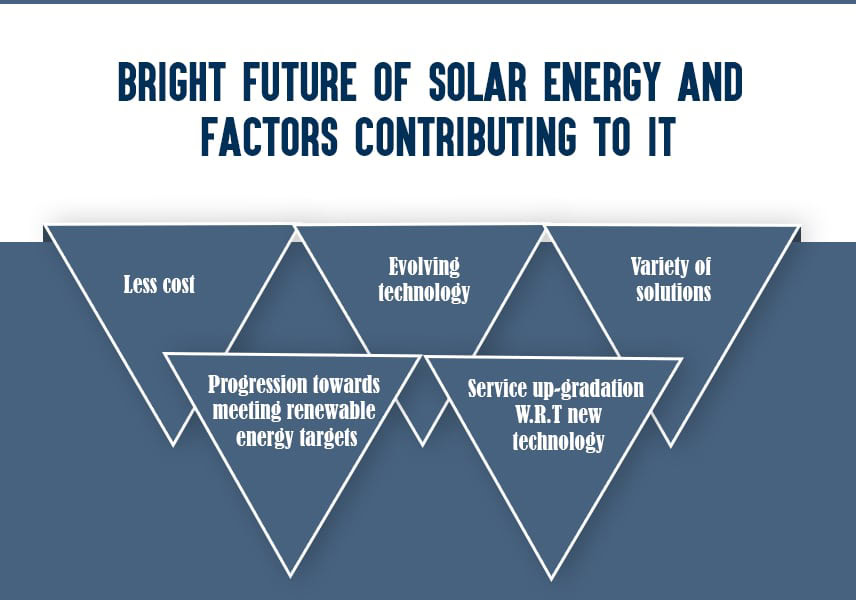 Cost reduction:
The PV panels' prices are way less now than they were back in 1978. Not only the PV panels but also other solar system components are available in reduced rates due to heightened demand and new technology, which makes cheap production possible.
There's awareness about the sustainable energy resources and demand for solar energy. 'Fairly charged solar systems' is one of the chief reasons why the industry has grown so much, and then there are government rebates that encourage solar panel installation in Australia. As a result, people and businesses are adopting solar energy at a rapid rate.
Evolving technology:
Currently, the photovoltaic solar panel is a dominant solar technology and is pretty much here to stay. In addition to that, the research is ongoing to improve solar technology. New solar cell technology is making a buzz lately. Metal halide perovskites are still in the testing phase but are expected to be budget-friendly and can outperform PV cells.
Scientists are experimenting with the new technology and are achieving success by piggybacking halide perovskites on existing PV cells (perovskite-silicon tandems) to increase efficiency and output.
Variety of solutions:
With new solar technology, the world has seen efficient and affordable solar batteries for storing excess solar power. People can use the stored power in the batteries when they run out of electricity. There's no need to connect to the main grid.
Solar power stations are no exception to this. They are taking advantage of this battery technology to deliver more sustainable and clean power solutions.
Tesla Powerwall is a significant example of battery storage. Its efficiency and design are remarkable, and you can use up to ten batteries for mass storage. Tesla Powerpack is excellent for commercial purposes.
Fast development:
When we talk about Australia, check the following stats:
As the Guardian stated: Within two years, clean energy will provide 35% of Australia's total electricity needs. The analysts say it as the data highlights the pace at which solar power is transforming the national energy market.
Renewable energy is growing, at a per-capita rate ten times faster than the world average, in Australia. – theconversation.com
Check this report by clean energy regulator – 2020 large scale renewable target capacity achieved.
Australia is playing a prominent role in building renewable energy. The rate with which it's moving forward, it's understandable that the nation is keen on majorly adopting clean energy.
Adhering to the technology growth:
Solar energy solutions are continuously evolving. With research efforts and new technology, the solar power presence is only going to strengthen.
Vista electrical controls – VEC is providing second to none solar panel installation service in Perth, Australia and strives to be up-to-date with emerging solar technology.
VEC wants to take solar power in every corner of Australia while providing the latest tech, affordable, and efficient solutions so that everyone can benefit from clean & sustainable energy.
Takeaway:
Solar is going to play a vital role in future, as the world has understood and is utilizing the technology at a greater degree. We are doing our bit by providing solar aid to Australian people. VEC has a variety of residential solar systems to serve energy needs.
We work towards quality which will ensure that solar power users will have a safe transition to the change.
Going solar is a solution for various problems our planet is currently facing. With this natural, undying source of energy, the future looks pretty safe and bright for us and the earth.
Let's go solar and restore the balance of the planet!